Description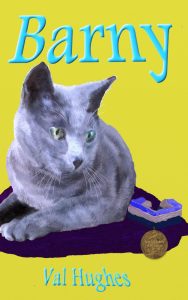 Barny, or Barnaby Maksimillian III to give him his full name, is cat royalty – a pure bred Russian Blue national champion. He lives a well-fed quiet and pampered life with his family Lord & Lady Marchbanks and their children.
When he and their daughter Jemima are 'Catnapped' it soon becomes clear that Barny has to be brave and attempt a rescue mission. His quest is filled with danger, new faces, new places and many exciting adventures.
Follow his journey and find out whether Barny gets home in time to save Jemima.
Storybook for children aged 6+ / newly confident readers.
Price includes 2nd class postage and packing within the UK.